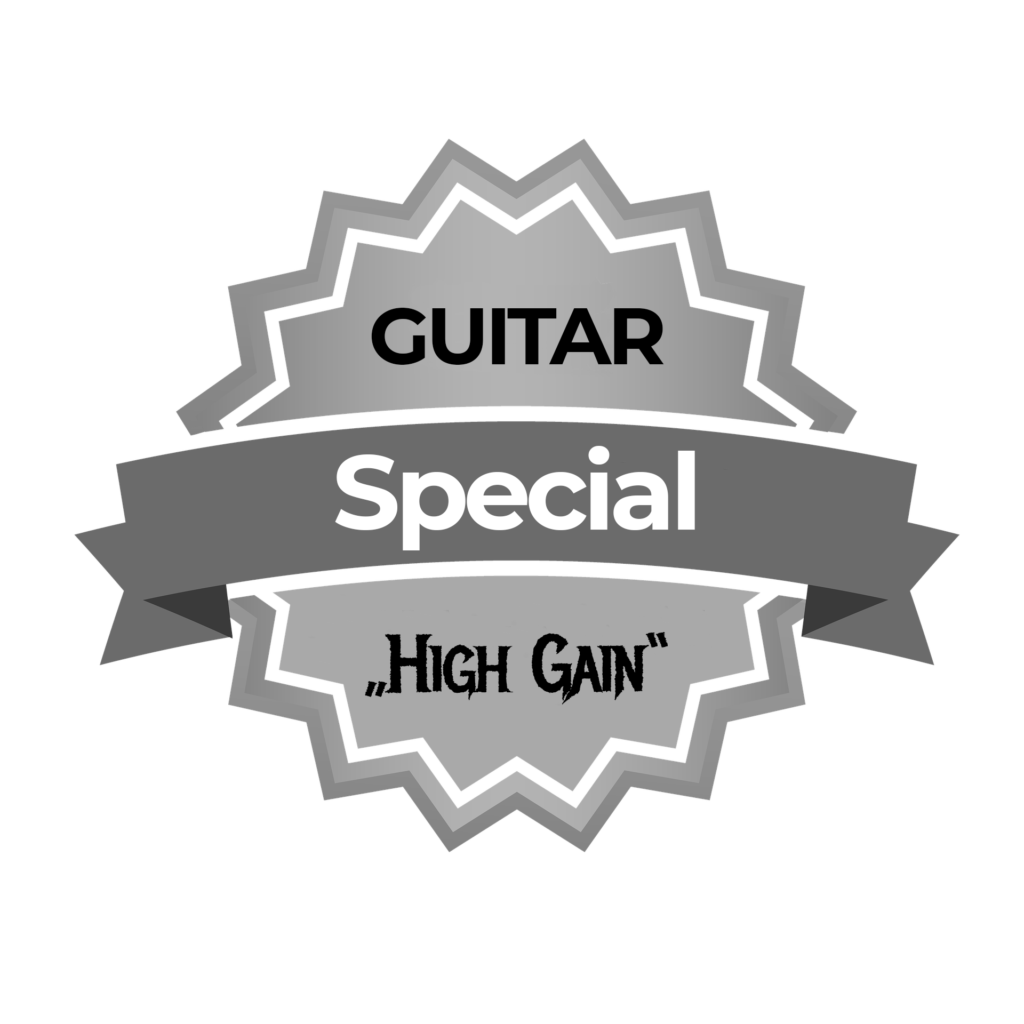 A focused and sharp guitar, concentrated on the needs of high gain sounds.
Fully handmade and masterbuilt,
feat. stainless steel frets, carbon fibre reinforced neck and handwound Bare Knuckle Pickup.
Price: 2.249,-€, including German VAT (16% – 310,21€) shipping inside EU and a custom flight case.

The Body
We selected basswod as the body wood for the Tenua "High Gain" Guitar Special. This light weight wood is said to pronounce the mids and to work towards a well balanced tone. Some of the most famous guitarists use this wood in their signature guitars. We colour it black and give it a natural oil/wax finish.
The Neck
Hardmaple with carbon fibre reinforcement bars is our choice for the neck of the Tenua "High Gain" Special guitar.  Together with the Ebony fretboard and the stainless steel glued in frets it all works towards a bright and clear tone by making the guitar sing with great sustain. Blue Luminlays as side dots give  great guidance across the fretboard.
The Electronics
The Bare Knuckle Aftermath Humbucker gives you "accelerated bass response, crushing mid range and precise high-end articulation" as Bare Knuckle Pickups describe it themself. The Burnt Chrome Battleworn finish makes it a real eyecatcher on this mostly black guitar. With one pickup like this a single volume knob is everything you need on the controls.
The Hardware
The elegant single bridges and head pieces by German manufacturer ABM are made out of solid Bell Brass and deliver a perfect sound transmission between the strings and the instrument. The system makes string changing as easy as it is possible and the outstanding tune stability supports your playing.
model
Tenua
strings
6
scale
650mm
body wood
Basswood
neck wood
Hard Maple
fretboard wood
Ebony
finish body
oil
finish neck
oil
neck reinforcement
carbon fibre
fretboard radius
12″
frets
24 jumbo, stainless steel
nut
0-Bund + Graph Tec
side dots
Luminlay
trussrod
two-way
bridge
ABM single
headpiece
ABM single
knob
Schaller speed
pickup bridge
Bare Knuckle Pickups Aftermath
Burnt Chrome Battleworn
volume
master 500kOhm
output
side jack
strap buttons
suitable to Schaller S-Locks
back cover
copper
Make it yours
Contact us to place your order. The guitar is prepared and will be finished after your order. Changes in body colour or pickup are still possible yet. A 50% down-payment is required before finishing the guitar, the full sum will be payable before shipping.